Launch Your White-Label DoorDash Clone App Today!
Get DoorDash Clone with pre-built features and functionalities to increase your online food orders and profits in a short time. Satisfy your customer's expectations with your own food delivery app like doordash.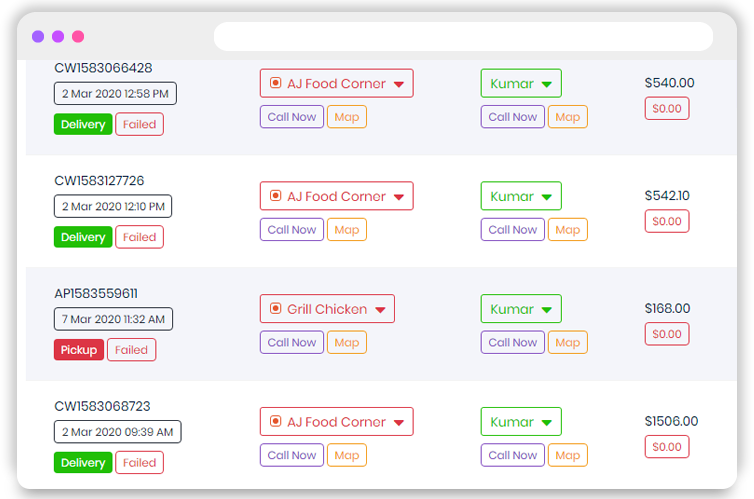 Ultimate Solution For On-Demand Doordash Clone App Development
Doordash clone is an online food delivery platform. An online food delivery business has no end, day by day food delivery online demand was so high. Most of the restaurateurs were getting tied with food delivery online services like Doordash, UberEats, and more to get profitable outcomes. Doordash clone app script helps to your on-demand restaurant food delivery business to increase their visibility on the online. Doordash clone app used to customers can easily find their favorite restaurant for favorite food and place their order after delivered to their doorsteps.
Foodtro offer a ready to use doordash clone food delivery app for restaurant business. Our doordash clone app development solution includes a customer app that run across iOS and android platform. Online food ordering and delivery app like doordash clone have separated delivery boy application to run your restaurant business excellently. Doordash clone script include a admin dashboard and customer website to promote restaurant delivery business.
Foodtro offer a well-developed doordash clone app software for your restaurant food ordering online and delivery business world to have prosperous results. Doordash app clone has the best business module that suits every startup and entrepreneur. Our cutting-edge doordash like app for food ordering online and delivery will help you hold your business at your fingertips with 100% customization features. Foodtro provide a completely white-labeled food online delivery app like doordash with all essential feature are pre-loaded.
Doordash clone app has a maximum number of food orders then the customer is enjoyed, when the customer savor meals from multiple restaurants simultaneously, using simple checkout process. Doordash app clone is a global brand for online food delivery service and design of website and app must have the bright and professional look.
What we offer with our doordash clone app script?
100% Source Code
The complete source code of the system will be provided to you based on your criteria.
Dedicated Support
2 months free technical support over email & whatsapp, if you get any issue with applciation.
Single/Multi License
Pay once and get benefited with a self-hosted single-multi-domain license.
Free Installation
Hassle-free installation. We provide live server deployment after the purchase of script.
White-Label
Let's create your own brand and logo to your online Delivery Hero Clone App.
Customizable Platform
The fully customizable are supported with this platform with powerful open source technologies.
Features of our delivery app like doordash clone
Contactless Delivery
To ensure fast delivery service, we have integrated contactless delivery options within the app solution. Delivery app enables customers to know the real-time status of their delivery. This feature facilitates admin and customers with a complete monitoring facility, which allows customer to track the status of the order.
Subdividing menu
To provide customers with an enhanced experience, restaurant can set menu and submenu through the app. Restaurant can add any of subcategories and categories to the list that customers can explore and select any of the items as per their convenience.
Manual delivery assigning process
Impressive restaurant panel and the app facilities restaurants with an advanced manual delivery feature. This features allows customer to manage delivery boy manually through the delivery app, this speeds up the delivery process and ensures providing the best experience to the customers.
Customized language
Admin panel facilities the admin to change any of the selected languages customer want. This can help restaurant to provide a seamless experience to their customers whenever they interact with the delivery app. The dedicated admin panel, admin is allowed to change the app language as per customer convenience.
Ordain Deliveries Manually
Later, they can ordain the delivery tasks manually to the delivery man of their choice.It assist provide faster and better delivery experience as stores can simply find delivery services.Stores can select to add their own delivery support using the store app and panel.
How Doordash Clone Script Works?
The Doordash Clone Script follows a simple assignment that ensures excellent results. By following the footsteps and guidelines of the famous Doordash business model, the solution ventures into online food delivery space with supervise facilities.
Payment can be gathering using any payment mode the user select-online/card/cash.
The delivery provider agree the delivery request, picks it up from the store, and delivers it to consumers.
The consumer places an order by selecting a store using the consumer application.
Once the order is ready, the store contacts the adjacent delivery providers to arrange pickup.
The store receive incoming order notification and agree it and starts preparing.
Read more about How to Build Your Own App like Swiggy Clone Script with Advanced Functionality
Highlights Built-in Our Doordash Clone
With doordash clone make food delivery easier for customers satisfying demands of endless users
The need address of foodies efficiently by selecting doordash clone app to ensure customer satisfaction. Delivery is excellent service by controlling and monitoring the overall activities of your restaurant delivery business with advanced solution stack.
Survey the how our solution stack helps your food delivery business to grow in the industry. To ensure faster delivery with our doordash clone app to empower your delivery business success
Testimonials
How We Work at Client Places?
Frequently Asked Questions About Doordash Clone
The questions frequently in your minds and solutions for that all about online restaurant delivery software.