Are you looking for food ordering and delivery software for your business
Get customized food ordering app clone script for your restaurant business with open source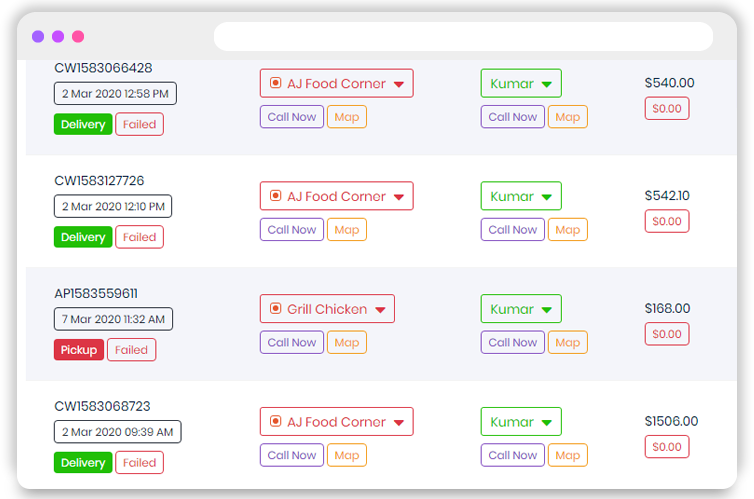 Online food ordering script for your food delivery business
Online food ordering and delivery script for restaurant business is next level of the lift of restaurants who run the shop at physically, they can use the ready-made food order script for their restaurant. There are many restaurant food ordering software providers are available in the market but foodtro offers you complete setup and built with the ultimate features associated with support with proper communication with customers till the application on delivery the food.
Our food script focuses on the online restaurant business owners who are interested to move forward with online food ordering business with his own delivery boy drivers using delivery app for their food service. On demand app for food order is commonly used in the world wide restaurants at the present time.
Food delivery script is fully optimazed with highly experienced professionals and latest technologies implemented with geo conferenceing mobile app will produce the result that allow the restaurant food ordering business next level of revenue model. The online ordering and delivery script software is developed by many companies in the market like foodtro providers.
Food Ordering App Script
Online Food Ordering Script is to serve the customers to make order` online using mobile apps such as android , iOS platforms to orders.
Contact Us
Food Delivery App Script
Food Delivery Script is to deliver the orders items by customers from food ordering app and it will be deliver by delivery riders from app.
Features
What does Our Multi Restaurant online food delivery management software offer you ?
We have the efficient online food ordering php script through which we create incredibly responsive and innovative food delivery script or their long list of esteemed clients. Are you looking for a food ordering script like foodpanda, zomato clone, UberEats clone, DeliveryHero clone, JustEat clone, Talabat clone If so, then foodtro is the right choice for your online food ordering and food delivery system. It provides you all the possibilities that a food script should have of foodpanda clone or just eat clone, takeaway food order script etc what they have.
The open source food delivery app script varies in templates and features providing clients with all types of options to choose from. So if you are looking to kick start your online food ordering script business and need the services of professional, you can touch with foodtro and get the best food delivery script to design wonderful online food delivery apps on Android and iOS.
How We Support for online food order script?
100% Fully Customizable
Online food ordering software is completely open source technologies has been used so you can 100% customized any where how you want the script look like as per your desired. Also we have our client speaking reviews some words about our services.
Dedicated Support
We have wide range of experienced teams to support the existing Online food delivery script to give the pioneer servers to our customers in business needs model. We are available all time on business hours to enhance your software to next level.
One Time Fee
We don't charge you always just one time investment to get a quality Online food ordering script to use in your restaurant business. All we covered with our restaurant ordering script ready to use.
How Food Ordering And Delivery System Works?
Are you looking for single restaurant food ordering system? We have readymade a hassle self hosted solution for food ordering at affordable price
The food ordering and delivery app script follows a simple assignment that ensures excellent results. By following the footsteps and guidelines of the famous Food Ordering And Delivery business model, the solution ventures into online food delivery space with supervise facilities.
Payment can be gathering using any payment mode the user select-online/card/cash.
The delivery provider agree the delivery request, picks it up from the store, and delivers it to consumers.
The consumer places an order by selecting a store using the consumer application.
Once the order is ready, the store contacts the adjacent delivery providers to arrange pickup.
The store receive incoming order notification and agree it and starts preparing.
Our script also supports for cloud kitchen model base script as online food delivery by ghost restaurants by using some of the food aggregators and brands in the food industry. cloud kitchen is a concept of delivery only restaurant with no physical space, no dine-in space or takeaway counter. It is a restaurant kitchen that accepts delivery only orders without a traditional restaurant or dining-in facility.
Read more about How easy to use online food delivery script with people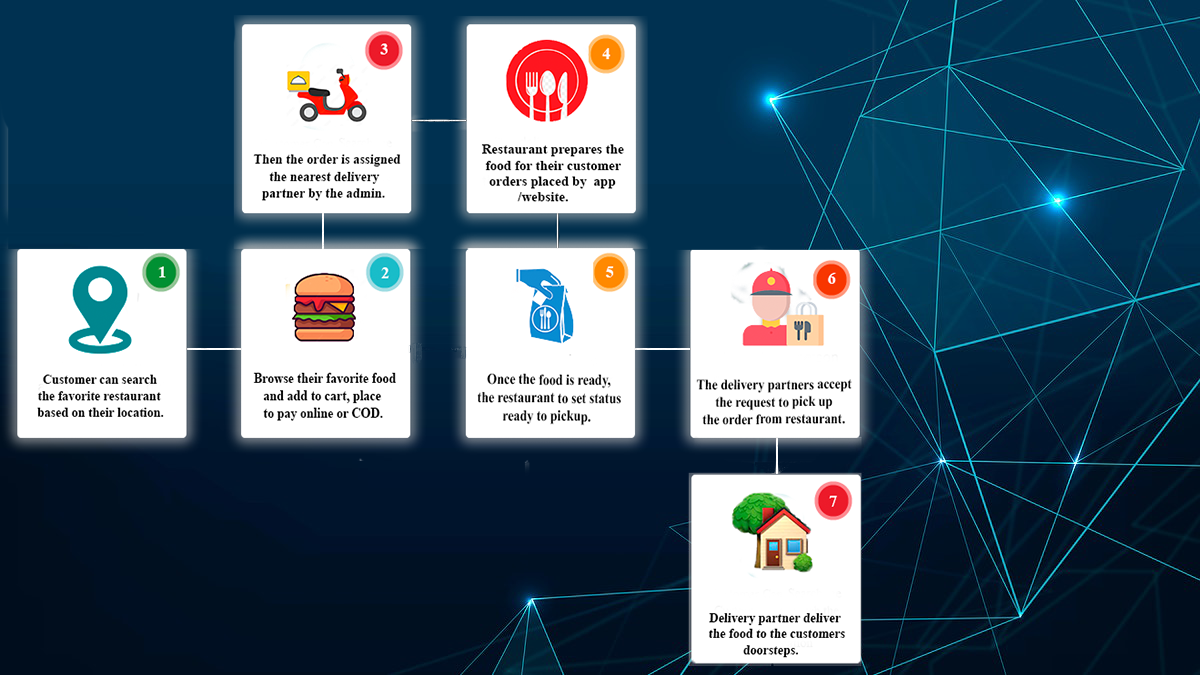 Highlights Built-in Our online restaurant menu ordering script
Coupon code
Now All platforms uses the coupon codes for online food order script
Activity log
Activity logs tells you the complete logs on scripts by operators
SMS gateway integration
SMS API can be purchased with local service API provider support
Payment gateway integration
PayPal, Strip, COD already integrated in the script
Dynamic app setting
You can always update the common settings for the app and website
Currency management
You can manage the currency of your food delivery website any time
Admin live tracking
Admin can check the live tracking for driver location and user location while processing the orders
Restaurant live tracking
Restaurant can be checked the live location of the driver and customers of the order
Logged as Restaurant
Admin can logged as restaurant user and manage the all updates on admin panel
User Interface Of online food delivery script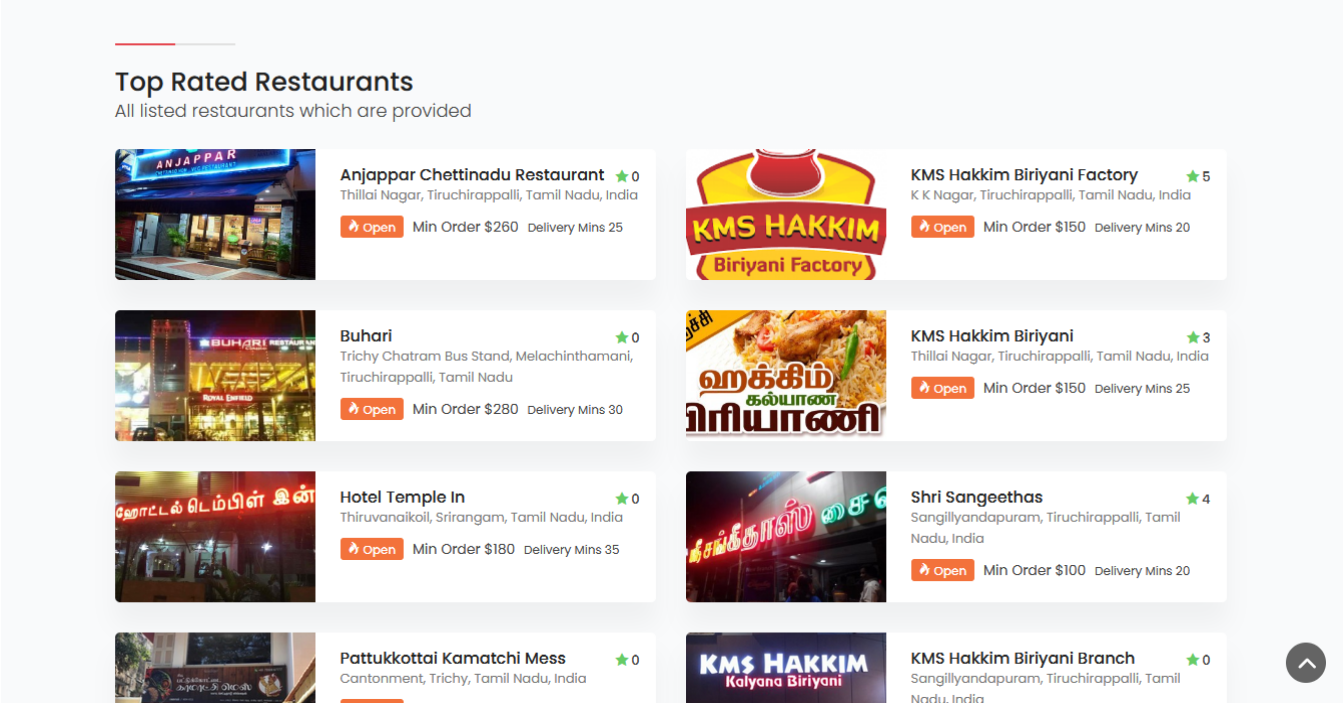 Customer features for food ordering system
Customer ordering app - Web, Android, iOS platform
The user can arrange through your food delivery software from both web and mobile. The administrator and merchant get informed in a flash on each solicitation.
1. Our inbuilt highlights of web based requesting and conveyance programming gives best online experience to your users.
2. Our online restaurant requesting programming goes about as a typical stage for associating restaurants and clients at one spot.
3. Your customers are allowed to pay either through online or cash on delivery.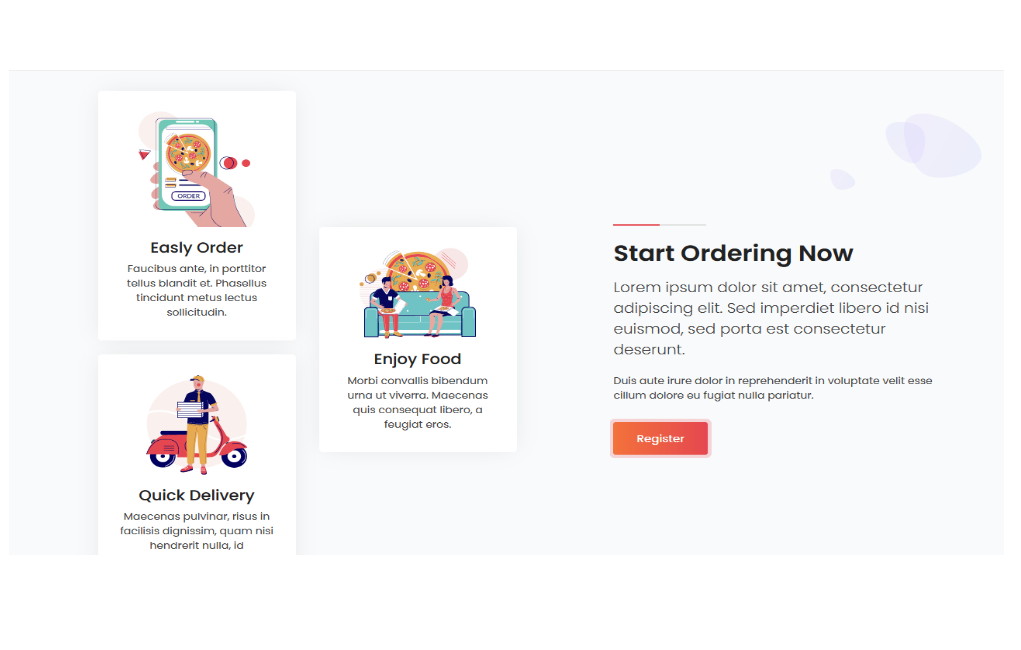 Admin panel features for food ordering script
Admin dashboard - multi restaurant delivery software platform
Online food delivery admin panel has features to manage the complete process. Some of the features you find in our food ordering app admin panel are settings, manage category, manage cuisine, manage ingredients, track location, manage restaurants, manage drivers, manage customers, track orders, book tables, And others. Do you prefer to add some more features in your admin panel? Contact us we can provide you with a customized solution.
1. Using the restaurant management software script, lets you help your business to easily manage and track. You can also generate reports, those reports help you to improve your business sales and ROI.
2. Now automate your business with online food ordering script as like Foodpanda, ubereats, justeat clone apps.
3. Now automate your business with online food delivery system as like Foodpanda, ubereats, justeat clone apps.
4. Create a brand for your business. We help you in generating more customers.
5. Now get digitalize with our FoodTro online food ordering and delivery script.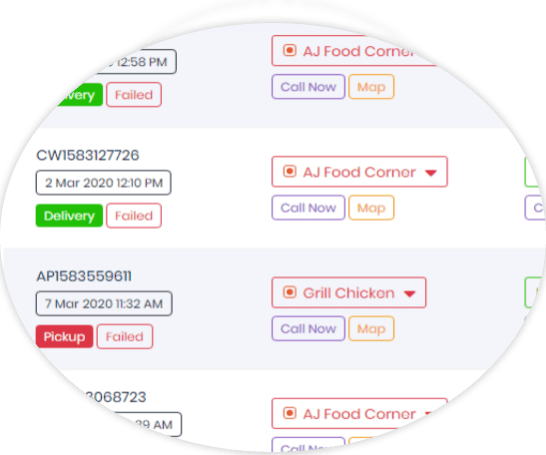 Restaurant dashboard for food delivery script
Order receiving app - Web , Android & iOS platform
Restaurant panels let you manage restaurant items from the back end such as manage category, manage ingredient, manage items, manage orders, etc. We provide a solution for the single restaurant as well as multiple restaurants. providing the app on both the platform's web and mobile.
1. Restaurants can streamline the process for taking out orders, resulting in better accuracy, faster service and increased efficiencies
2. You can get more features to your restaurant app. Customer order request in notified here.
3. The restaurant owner can view the status of new orders, confirmed orders, orders picked up, delivered orders, cancelled orders.
4. The restaurant can be able to choose the category and add the food, base packs and add-ons.
5. Admin can track restaurant orders anytime anywhere.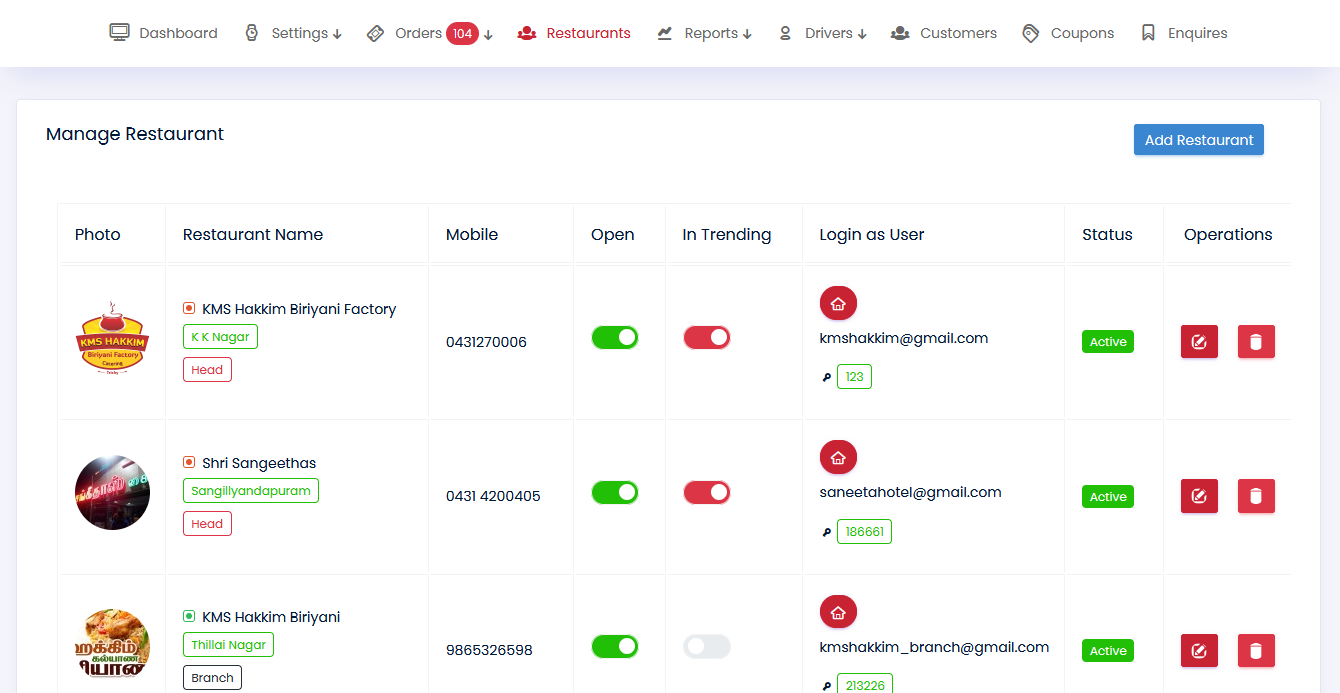 Online food delivery script
Restaurant food delivery app - Android , iOS platform
FoodTro makes It accessible and affordable for anyone around the world to start your own online food delivery business. we provide food or other delivery app solution for any kind of business not only restaurants.
1. We provide feature-rich and fully customizable on-demand food delivery app development solution.
2. Admin can easily track delivery staff from his own place.
3. A request is sent to a delivery app on the customer order and place. Based on that delivery staff delivers the food at the customer's place.
3. Make your delivery operations easier with FoodTro. A perfect online food ordering and delivery application script.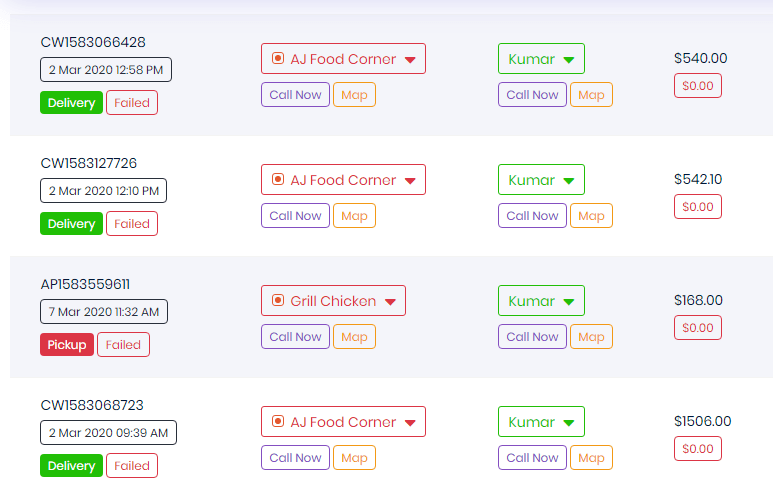 Third Party Integration Solutions For Food Delivery Clone App
We do all necessary solutions for running food order script with PHP.
Our food online ordering scripts is completely an open source script and food delivery platform will be compatible for all type of extra third party integration solutions
1. Payfort, Razorpay
2. Google location
3. Twilio
4. Facebook Ordering
5. Printer Option
6. Phone Order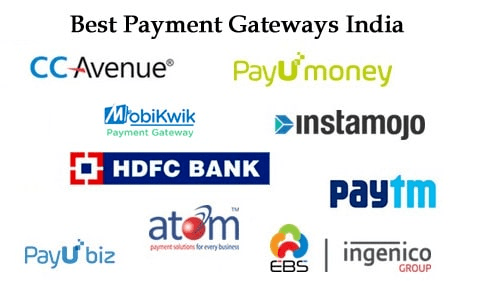 Looking similarly for Food Delivery Clone App?
Frequently Asked Questions About Food Delivery Software
The questions frequently in your minds and solutions for that all about restaurant online food delivery software.