Food Ordering Script for Online Delivery Business
Are you thinking of streamlining to increase your restaurant food delivery business on sales with digitized a readymade and fully customizable food ordering script.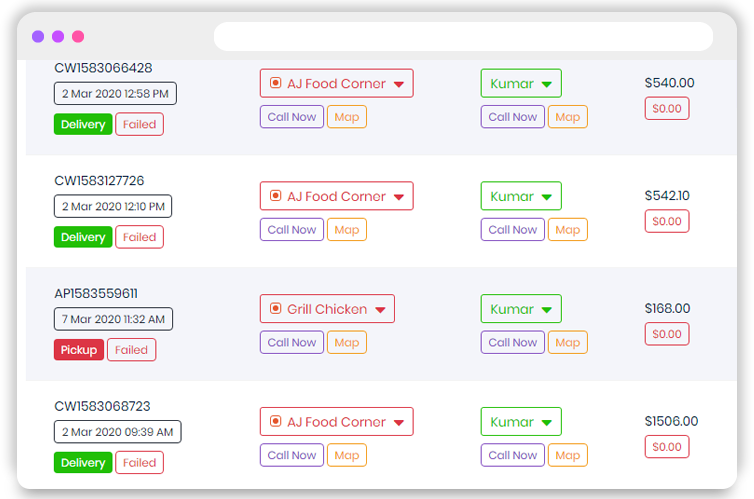 Why Food Ordering Script Is The Best Solution For Your Online Restaurant Business
In the technology market, mobile apps have played big role and restuarurant business owners dont want to waste their busiest time to develop the food solutions from scratch. The trend of ordering food online has compleller to start the business with readymade restaurant ordering app scripts, which is fully completed with high-end features, backend with full technical support, and available at cost-effective prices.
Now, customers can place the order of their favorite food from nearby restaurants and get it delivered on their doorstep. If you are excited to start something fresh and trendy then definitely our food ordering script is suitable for you.
Extraordinary Elements Of Our Online Food Delivery Script
Contactless Delivery
The contactless delivery refers in our online food delivery script, the process of getting your food at your doorstep without direct interaction with the food delivery staff. Customers can place the order from the user application and pay by digitally. Also while making digitally, the customer would get benefit for ensuring safety and hygiene food.
Order Pickup Notification
Drivers are played role using their own seperate application, once they order is ready the driver will pickup the order and reach the customer delivery location using google geo location map and customer can check the status of order in the customer application. We have used google firebase push notifications.
Restuarants Menu
Restaurants can easily add or delete items as per the availability from its panel and handle the digital menu category wise with online food ordering script. Moreover, restaurant owners can update product descriptions and rates based on ongoing offers and restaurant indoor images. restaurants can effectively manage the menu items as per their needs and fulfill to the customer orders.
Customer - Vendor Communication
The key of success is way of healthy communication with customers, the online food ordering script facilitates communication between customers and restaurants. This feature allows customers to add or remove items after making the payment. App solution comes with an in-built calling feature, later restaurants send the final invoice to the customer.
Ratings & Review
Customer can share the reviews after the order delivered. They can also add a particular restaurant to their favorites as a bookmark, customers can rate meals based on five stars, and they can also share feedback across social media channels. Along with the meal, customers can also give ratings to drivers for their service on the order.
Easy Checkout
It is important to leave a long-lasting impact on customers by providing them easy and multiple payment options. It improves the overall customer journey, an easy and secure checkout process gives your food business the ultimate edge. Customers are given multiple payment options such as card payments, PayPal, COD.
What brings Our Online Food Ordering Script Unique From Others
100% Fully Customizable
Online food ordering software is completely open source technologies has been used so you can 100% customized any where how you want the system look like as per your desired.
Dedicated Support
We have wide range of experienced teams to support the existing Online food delivery system to give the pioneer servers to our customers in business needs model. We are available all time to enhance your software to next level.
One Time Fee
We don't charge you always just one time investment to get a quality Online food ordering script to use in your restaurant business. All we covered with our restaurant ordering system ready to use.
How Online Food Ordering Script Works?
The Online Food Ordering Script follows a simple assignment that ensures excellent results. By following the footsteps and guidelines of the famous UberEats business model, the solution ventures into online food delivery space with supervise facilities.
Payment can be gathering using any payment mode the user select-online/card/cash.
The delivery provider agree the delivery request, picks it up from the store, and delivers it to consumers.
The consumer places an order by selecting a store using the consumer application.
Once the order is ready, the store contacts the adjacent delivery providers to arrange pickup.
The store receive incoming order notification and agree it and starts preparing.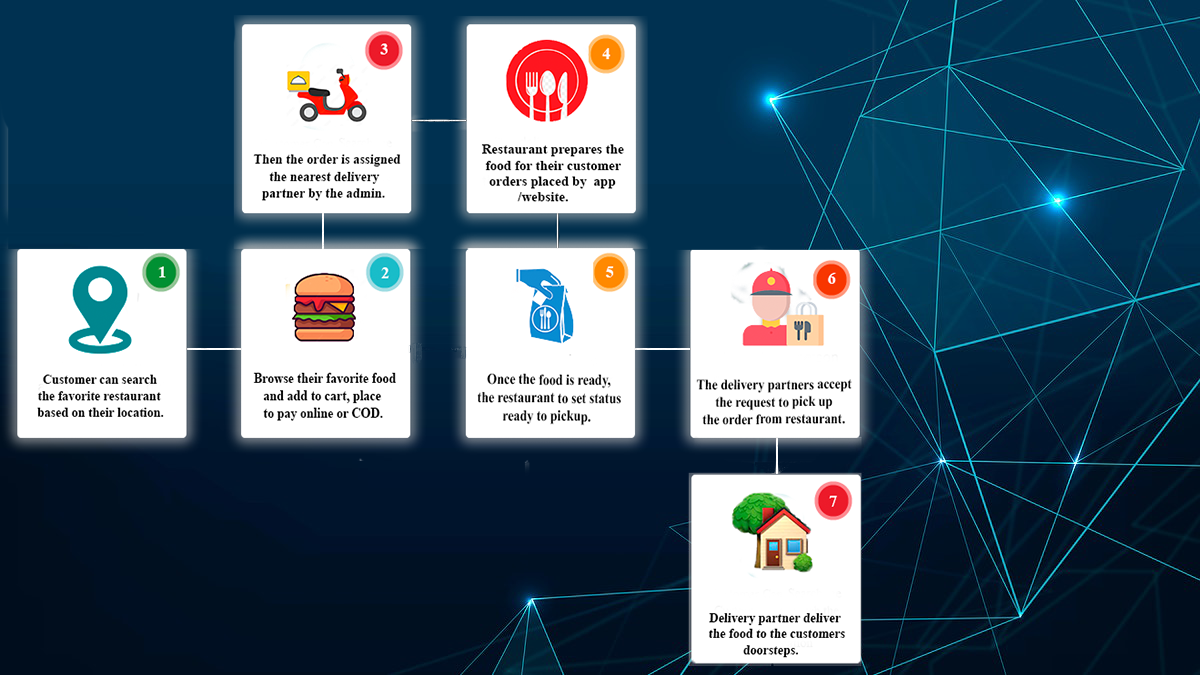 Brief Insight Of Our Online Food Ordering Script
Easy with using of our food ordering script helps to restaurant owners to kick start their online food ordering business. You can handle multiple food ordering requests and amplify the orders with streamlined work.
We provide complete online ordering scripts and business solutions that can be integrated into both mobile and web platforms. Using a separate web and application, you can order food at your doorstep.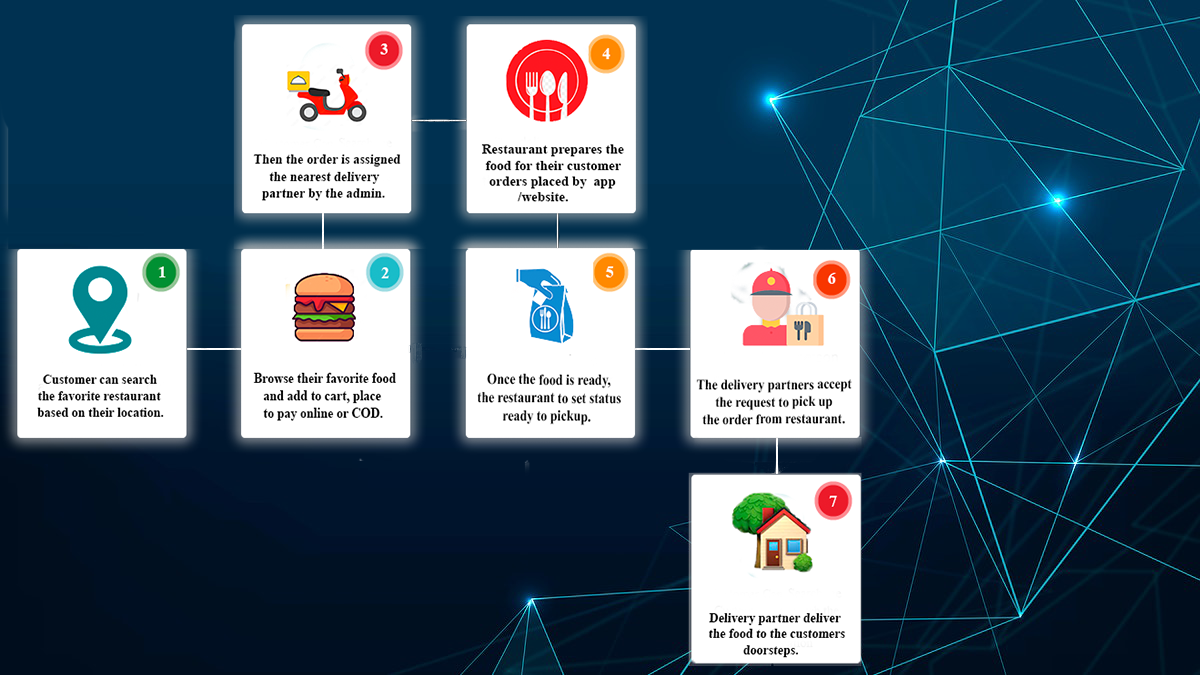 Highlights Built-in our food ordering script
Let's Create Something Big With Our Food Ordering Script
Let your customers order and deliver the food online and get it delivered by delivery staff at their doorsteps and skip the long queue with the scalable and robust food ordering script.
Frequently Asked Questions About food delivery app script
Having questions in mind? We would love to hear from you. Contact our dedicated and professional team today, we will give perfect and hassle-free consultation to get things started.