Multi restaurant online food ordering website
Start taking online food orders from your own website and you have to stand out from paying expensive commissions. Discover the various features of our restaurant online ordering software.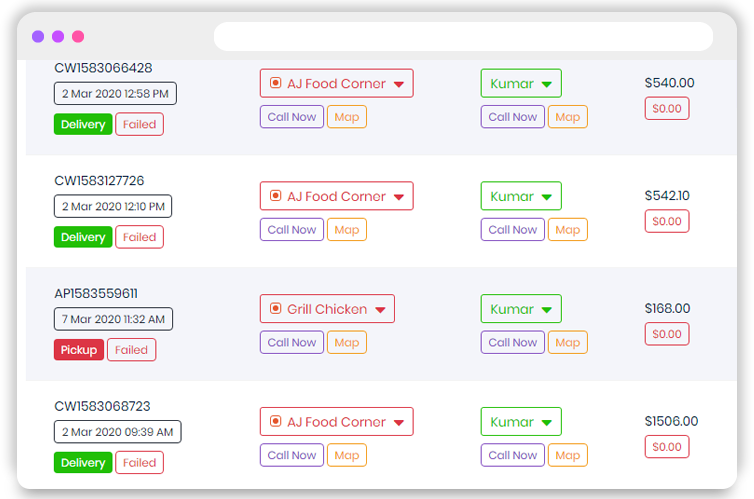 Get your online food ordering website for multi restaurant business
Use our online food ordering software system to increase your restaurant business growth and track business ratio from your everyday report. Our open API software gives you unlimited choice in online food ordering website. Our team can help your restaurant for online POS system has built perfectly, with over 35 online ordering system partners.
We have a powerful admin panel for our software will upgrade your restaurant reach compared to your competitors by using mobile app, online website booking, order manage apps, delivery apps and more. You can easily select items from restaurant menu, because we create brandish of your menu and promote your website. Enhance your website potential and active on social networking to make sure you are on the spot.
Features of our rich food ordering website
Just you accept an online order for your restaurant with your very own website and everything you need to be done
Customer profile
Let every customers can manage their profiles and save their multiple addresses for placing delivery orders.
Quick menu setup
We will help you to update your respective menu by yourself very easy with you just one click.
Easy order management
Without any manual errors you can manage every online order easily.
Order history
All customers placed previous orders are saved automatically to the order history.
Gallery creation
Gallery image with your customer delight their taste buds and fascinate your customer with your menu image.
Customer feedback
From your own restaurant website you can collect feedback and reviews from your customer very easily.
Why don't have website for your restaurant still now?
You're in the right place, once you complete your restaurant profile and our online food ordering software system will automatically create your own website with your custom brand name.
Our software team will build your free online ordering website for your own restaurant to match your own brand name, including location, menu, contact information and other required information of your restaurant business.
Your own restaurant online ordering system
With your own branded online ordering software, directly from your website for your customer placed order instead of third-party aggregators and its commission free.
Telephone orders are generally smaller than the online orders. Your restaurant to executing by online ordering software, you'll have the possibility to increase sales even use marketing automation and process group orders, and then market the specific menu items.
We help you enhance the process of orders is our goal, and you to give your customers the multiple ways in order placing the mobile applications.
Online ordering website for your restaurant made compatible for your customer
Your customer start placing their orders directly from your website so you can reduce manual error on telephone orders.
The customer can add men item to their cart and can select deliver or pick up areas.
Your customer can order and pay online for their order wherever they are with help of foodtro online ordering system.
Let's Create Something Big With Our Food Ordering Script
Let your customers order and deliver the food online and get it delivered by delivery staff at their doorsteps and skip the long queue with the scalable and robust food ordering script.
Frequently Asked Questions About food delivery app script
Having questions in mind? We would love to hear from you. Contact our dedicated and professional team today, we will give perfect and hassle-free consultation to get things started.